P5 Panels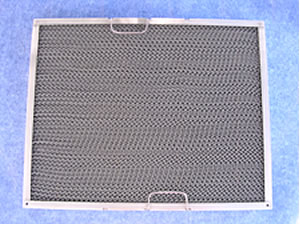 High-Velocity Filtration for Bulk Air Handling Systems
Permanent, all-metal, cleanable, P5 filters are engineered to handle high face velocity air speeds ranging from 400-600 fpm. By comparison, normal velocities are 356 fpm. Without compromising efficiency, the P5 will handle up to 50% more air. This true high-velocity filter is especially applicable where plenum chamber space is limited or where "V" or "U" type filter banks are not practicable. Special construction and materials can be furnished to meet specific applications.
Construction
The P5 incorporates a unique Turbo-Flow filtering principle. Air chamber are formed by reversing "Z" crimped layers of galvanized wire stacked at 180° to each other, these channels create exceptionally high air turbulence, resulting in a wiping action as the air-entrained dirt impinges on the adhesive coated wire baffles. Enclosing channels are of galvanized steel, or other options (see chart, below).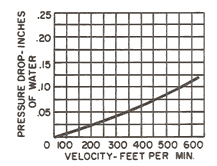 Performance
Labyrinthian air passages enable dirt to be deposited over a greater depth in the media, increasing the dirt-holding capacity of the P5. As a result, the static pressure drop is maintained at a relatively low level. Filter efficiency of the P5 is over 70% using standardized test dust methods.
Sizes
Standard sizes are available in 2" thickness.
Servicing
To clean the P5 filter, simply flush with a solution of commercial cleaner and hot water. Dry completely before re- application of adhesive.
P5 filters are classified by Underwriters Laboratories Inc.®
Common Sizes, Capacities and Weights
Part Number

Nominal Size

CFM Capacity
@ 356FPM

Shipping Weight
(Est. LBS)

121642-1

121643-1

121639-1

121640-1

20x20x2

20x25x2

16x20x2

16x25x2

1200

1500

960

1200

10.5

13.5

8.5

11.0
---
Note: Other sizes available on request.
Panels:
Modifications for Special Applications Special construction and materials can be furnished to meet special application requirements. The following materials are available for use where atmospheres are encountered which are corrosive to materials:
P5A - Aluminum media, galvanized-steel enclosing channel. P5AA - All Aluminum P5RR - Galvanized media and enclosing channel reinforced with expanded metal on both sides of the panel. P5S - Stainless steel enclosing channel with stainless steel media. P5W - Available with Cadmium-plated finish to meet the requirements of Specification MIL-PRF-16552
Request a Panels brochure in PDF Format
Falls Filtration Technologies reserves the right to change any model or specification at any time without notice.