P1 Panels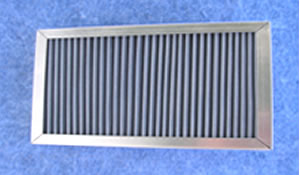 Light Weight Viscous Impingement for Electronic Cabinet Filtration
Widely used where light weight is a prime consideration. Effectively protects against entrance of dust and entrained water. Flocked metal screen media provides higher efficiency filtration in forced draft applications
Construction
Filter media is made from two layers of pleated flocked wire screen cloth, frame is available in P1A aluminum and P1 steel construction. Steel frames can be plated and aluminum frames can be anodized per MIL-A 8626, Type 2 or chemical coated per MIL-C- 5541, Type 1.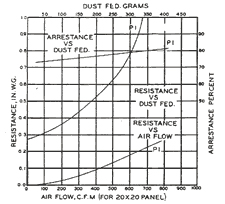 Performance
Resistance: .080" water @ 178 FPM to .265" water at 356 FPM. Average dust arresting efficiency is 77% using standardized dust and testing methods.
Sizes
Wide ranges of standard-size P1 filters are available. Filter thickness is ½"-1". P1 panels are available in circular shape to fit your custom applications.
Installation
It is important no air by allowed to by-pass edge around filter. Felt, neoprene, or other suitable materials should by used to form an adequate seal on the perimeter around the edge of the filter panel.
Servicing
The P1 can be cleaned in water and detergent solution or a suitable solvent. When dry, apply an even coat of adhesive. May be serviced as often as necessary without impairing efficiency.
P1 filters are classified by Underwriters Laboratories Inc.®
Common Sizes, Capacities and Weights
Part Number

Nominal Size

CFM Capacity
@ 356FPM

Shipping Weight
(Est. LBS)

126007-007

126007-013

126007-022

126007-041

126007-047

126007-066

4x5x1/2

8x8x1/2

10x15x1/2

6x12x1/2

6x7x1/2

9x9x1/2

20

70

150

75

35

85

.5

1

2

3.0

1.0

1.8
---
Note: Other sizes available on request.