Type DH (Dog House) Filter Panels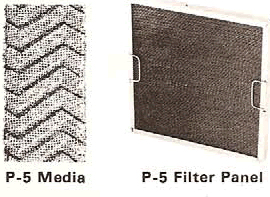 Type P-5 (Optional)
The high velocity P-5 viscous impingement panel features turboflow filtration and is recommended for applications where restricted space limits filter area. Ideal for use under conditions which require fast velocities approaching 600 fpm.
To clean, simply flush the panel with a solution of any commercial solvent and hot water.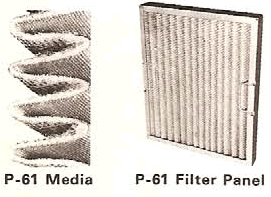 Type P-61 (Optional)
The dry type P-61 is recommended where oil-free air and high filtering efficiency of fine dirt are required. The efficiency of this panel filter is not reduced by the presence of oil vapor or water. Pleated construction affords maximum filtering area.
The P-61 can be vacuum cleaned or flushed with clear water or a mild detergent solution.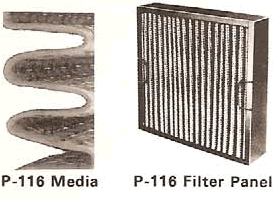 Type P-116 (Optional)
The dry type P-116 is recommended where extremely high efficiency is required. Efficiency is not affected by variations in normal operating velocities or by temperatures up to 275°F.
The P-116 can be cleaned with compressed air or it can be washed in clean water or a solution of water and a mild detergent.